About Us
GOOD SHEPHERD COLLEGE a recognized Minority Institution, offers Regular, FullTime Degree Courses in BCom (Model1), B.Com (Computer Application), B.Com (FinanceTaxation), BBA. The College is Affiliated to Mahatma Gandhi University as a full time regular college and is approved by government of Kerala. The College provides a unique program of learning , teaching and training, by ensuring quality reliability standards. Primary objective of GOOD SHEPHERD COLLEGE is to promote personal integrity and social responsibility among the students. GOOD SHEPHERD COLLEGE provides for an academic environment with informational learning and transformational training during the three year duration of degree courses.
Our Vision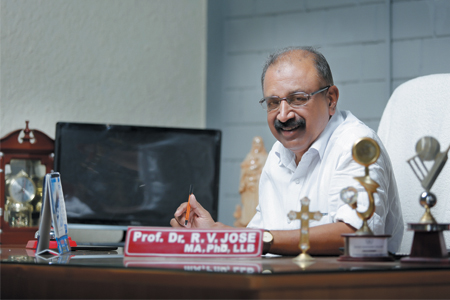 Prof. Dr. R.V. Jose MA,Ph.D, LLB
(Chairman Good Shepherd College)
Educational institutions are the potential social gifts to the emerging generations. Rated institutions are the treasures of social capital in the Society. Schools and colleges are tributes not only to the continued and growing relevance of the process of education but to the ways in which people acquire skills and gain knowledge. By ensuring the ambience of wisdom and knowledge, Good Shepherd College is successfully imparting the right direction to the youngsters. The legacy of the college is a unique and dignified culture of companionship.